*Due to the current state of the pandemic, we do not plan to offer bus transportation or airport shuttles to/from camp for 2021. This is subject to change depending on pandemic conditions, but please plan to be responsible for driving your camper to and from camp.
Transportation to and from camp must all be arranged online. To arrange bus or airport transportation, you can login to 'My Account' and under the Forms Dashboard, select 'Forms and Documents'. There you will find a Transportation form that must be completed for every camper regardless of their preferred transportation method.
Car Transportation: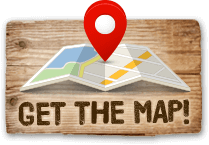 Drop off for campers on Sunday is between 2pm and 4pm. Pick up for campers on Saturday is between 9:30am and 11:30am. If using a GPS device and coming from the Bay Area, type in Ice House Lake and follow signs to Mountain Camp. If you're driving to camp from the Tahoe area, there is a shortcut that you can use as long as the roads are clear – see below:
Directions from South Lake Tahoe:
Heading west on HWY 50 from South Lake Tahoe, you'll turn right on Wrights Road. Follow that road for 6 miles, then take a left turn – road name is not posted, but there will be a sign for Ice House Reservoir pointing to that left turn. Follow road for 6 miles and Mountain Camp is on the left, although the sign is hard to see from that direction. If you come to a T intersection, you've gone just about a half block too far. Turn around and Mountain Camp entrance will be on your right.
Click here for a map to camp.
Airport Transportation:

We coordinate campers to be picked up and dropped off at the Sacramento International Airport (SMF).
Campers flight should arrive between 12pm and 2pm on Sunday.
Campers flight should depart between 12pm and 2pm on Saturday.
Airport transportation to and from camp is provided free of charge and is ONLY for campers flying to or from camp.
Campers who are under 8 years old and shorter than 4'9 should provide a booster seat for safe transportation to and from camp.
Bus Transportation:

We coordinate buses picking up and dropping off in 3 bay area locations. The bus charge is $90 per camper, each way.
Bus fee is Non Refundable.
Bus space is limited so reservations are taken on a first come, first serve basis.
Please arrive at least 15 minutes before departure.
Our bus runs on a tight schedule and can not wait for late campers. If your camper is not present upon bus departure, you are responsible for driving your camper to camp.
Please make any changes in completed bus reservations via email info@mountaincamp.com
For buses that will be more than 15 minutes early or late to the drop off location, we will send out text messages to the cell phones on file.
Lunch is provided on the bus to and from camp.
Phones and electronic devices are not permitted on the bus to or from camp.
Bus Schedule to Camp
| | |
| --- | --- |
| 10:45 a.m. | Larkspur: Redwood High School (corner of Lucky Drive & Doherty Drive, Larkspur) |
| 11:00 a.m. | Palo Alto: Ellen Fletcher Middle School (655 Arastradero Road, Palo Alto) |
| 12:00 p.m. | Lafayette: Lafayette Bart Station (3601 Deer Hill Road, Lafayette) |
| 3:00 p.m. | Arrive at Camp |
Bus Schedule from Camp
| | |
| --- | --- |
| 9:00 a.m. | Leave Camp |
| 12:45 p.m. | Lafayette: Lafayette Bart Station (3601 Deer Hill Road, Lafayette) |
| 1:15 p.m. | Palo Alto : Ellen Fletcher Middle School (655 Arastradero Road, Palo Alto) |
| 1:45 p.m. | Larkspur: Redwood High School (corner of Lucky Drive & Doherty Drive, Larkspur) |