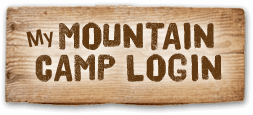 Thank you for your interest in becoming a staff member at Mountain Camp. We truly believe that working at Mountain Camp is one of the most rewarding, community oriented, and skill-building jobs you can have. Here you will find  information about working at camp.
All Staff and Campers are Required to be Fully Vaccinated against COVID-19. Staff are required to be "up-to-date" with the latest available booster when they arrive to camp.
Our online application for 2023 is now available.  If you have questions, email [email protected] at any time.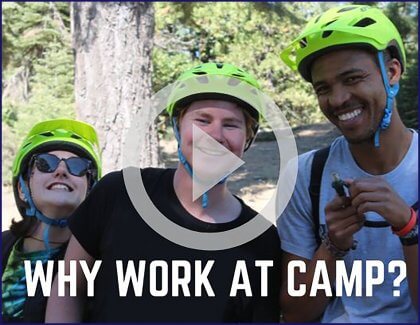 Positions are available for experienced, responsible and enthusiastic young leaders who want to work with children in a positive, outdoor environment. Position descriptions and details can be found here.
We hire about 30% of the staff through international placement agencies, bringing in qualified instructors and counselors from around the world.  International staff bring a wonderful diversity of culture and experience to camp, and must speak English fluently.
History and Location
Founded in 1966, Mountain Camp served campers in the Santa Cruz Mountains for 20 years before moving to its current location on Ice House Lake, about an hour from South Lake Tahoe. Mountain Camp is located on 26 acres of lakefront property in the Eldorado National Forest. We welcome over 1900 campers each summer with a staff of about 80.
Our Purpose
To inspire a community where friendships, creativity, experiential learning, healthy life choices, positive values, and character are nurtured through recreational challenges.
Campers
We welcome an average of 220 campers each session, about 50/50 boys and girls. Campers range in age from 7-14 years old (2nd grade-9th grade) most sessions. We offer a 2-week, Counselor-in-Training program during Sessions 3, 4, and 5 for campers entering 10th-12th grade in the fall.
The majority of our campers come from communities around the Bay Area. We get a small percentage of campers from around the United States and about 1% from other countries. About 1-2% of our campers come on scholarship through non-profit organizations in San Francisco.
Program
Our program is designed to balance independence, choice, challenge, and support. We strive to provide an environment where kids grow by feeling comfortable enough to step outside their comfort zones, and try to new things. Our staff are the most important component in creating an amazing camp experience for our campers.
Counselors are assigned to a cabin group, but also lead activities during the day. Counselors spend about half the day with their cabin (meals, Rest Time, Hang Time, Evening Program, and Night Life), and half the day teaching activities (each activity period is 90 mins long and contains 1 or 2 activities). Counselors typically lead activities for 3 of the 4 periods each day, with one period off.
Skills such as speed boat driving, guitar, ropes course, mountain biking, gymnastics, video production, arts & crafts, fishing, sailing, windsurfing, fencing, self-defense, photography, yoga, dance, survival skills, parkour, and lifeguarding are particularly desirable.
Basic Requirements
Counselors must be 19 years old and have completed at least a year of college or equivalent. All counselors are responsible for being CPR and First Aid certified before campers arrive. We will provide an optional Lifeguarding Certification Training (including a CPR and First Aid training that can also be taken separately) before Staff Training week begins.
Counselors who attended Mountain Camp as campers and are currently in their 1st year of college are offered partial summer positions. All other applicants are expected to be able to work from the beginning of staff training until the end of the last session. If your available dates fall outside of this range, or you have other scheduling conflicts, please email the office before applying.
Training and Support
Mountain Camp provides a week long Staff Training before the summer sessions begin. This week is spent orienting counselors to all aspects of camp and the job, including working with campers, leading activities, traditions, skits and songs, rules and regulations, and emergency procedures.
We are committed to helping counselors excel at their jobs. Ongoing support for counselors is provided throughout the summer in many forms. Specialists, Head Counselors, and Directors are available at all hours for mentoring, advice, and support. Counselors receive informal "Check-In's" during the summer for reflection and feedback on their job performance.
At Mountain Camp, we have a camper/staff ratio of approximately 4:1.
Check out our Staff Positions page for descriptions of the positions available for the upcoming summer.